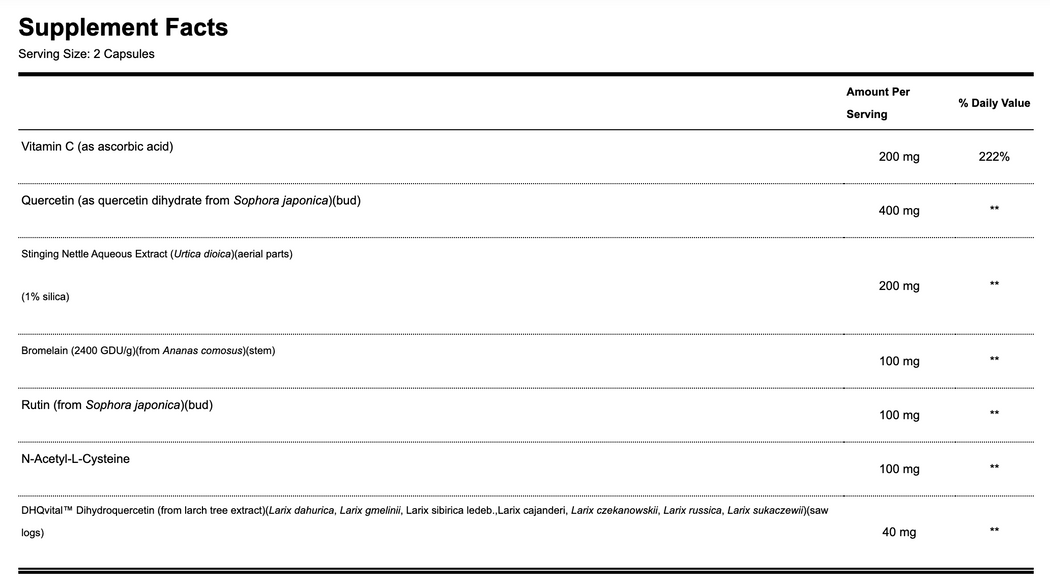 Allergy Support
The Innergy Shop's Allergy Support incorporates bioflavonoids, micronutrients, proteolytic enzymes, and herbs into a comprehensive formula that provides multifaceted support for individuals with immune imbalances. Dihydroquercetin (DHQvital™), a key component in our Allergy Support, inhibits oxidation, is bioactive, and is highly absorbable. Allergy Support supports the body's regulating function in addressing an overactive or distressed histamine response that are sometimes brought on by the environment.
Supports Hypersensitive Individuals
Supports Nasal and Sinus Passages
Provides Antioxidant Support and Protection
Directions: Take one to two capsules daily, or as directed by your healthcare practitioner. 

Consult your healthcare practitioner prior to use. Individuals taking medication should discuss potential interactions with their healthcare practitioner. Do not use if tamper seal is damaged. 
Caution: Do not use if pregnant or lactating.
Does not contain: Wheat, gluten, yeast, soy, animal or dairy products, fish, shellfish, peanuts, tree nuts, egg, ingredients derived from genetically modified organisms (GMOs), artificial colors, artificial sweeteners, or artificial preservatives.